Regency Executive Travel — Your First Choice Airport Chauffeur Service in Milton Keynes
At Regency, we pride ourselves on delivering outstanding service. Our friendly and professional chauffeurs prioritise your comfort and safety above everything else, ensuring that your luxury private airport transfer with us is as smooth and care-free as possible.
We offer a range of service packages including private airport transfers. We understand the importance of punctuality and reliability for all our customers and these key values play an essential role in ensuring the satisfaction of our clients.
Booking an airport chauffeur service with Regency will give you peace of mind to allow you to sit back, relax and enjoy the duration of your trip from start to finish.
Top quality private airport transfers that are reliable and worry free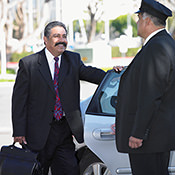 We believe that your trip away starts as soon as you step into one of our luxury chauffeur driven cars, and want you to enjoy your trip or holiday start to finish. That means taking away all the stress and hassle of travelling to and from the airport. We regularly monitor all flights and travel updates, therefore, we are always up-to-date with any circumstances that may affect your journey.
Our knowledgeable and experienced chauffeurs use satellite navigation and traffic management systems to ensure that they always take the quickest route to and from the airport. They will endeavour to keep you informed of any changes or circumstances where necessary throughout your booking.
Forget the stress of arriving back home after a long trip. On return from the airport, your driver will meet and greet you, ready to assist you with your luggage and accompany you back to the car where a newspaper and bottle of water will be waiting for you.
All airports covered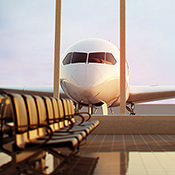 Based centrally, in Milton Keynes, Regency offers airport chauffeur services and private airport transfers for all major airports including London Heathrow, Stansted, Luton, Gatwick and Birmingham; as well as the smaller airports handling private aircraft such as Bicester, Farnborough and Cranfield.
Using one of our chauffeur driven cars as a mobile office on your way to and from the airport enables you to continue conducting your business and maximise your time effectively.
Although situated in Milton Keynes, Regency's private airport transfer chauffeur services are available for all UK airports. We ensure that you travel in comfort and arrive at the airport relaxed, please just contact us to discuss your requirements.
Contact us today to discuss your requirements
We are always happy to discuss your needs and requirements for your chauffeur driven wedding cars. If you would like to request more information about any of our services, please feel free to contact us or fill in the form for a wedding car quote.
Call us on 01908 677 440 or email info@regencyexectravel.co.uk